Newsletters
March 2013
We have added another school to help. This is in Lublu, in the Kathmandu valley, an area that is more secure for our volunteers and gap year students to visit. It has all the social problems of Dhanusha and Ramnager. Ashraya Nepal was approached by Mr Patek, the landlord of the area, with a request that help could be given to improve the life of his tenants in the Dalit community that live somewhat apart from the main village. Several meetings were arranged with the local women, offers of help have been extended to keep twelve girls in the school by paying for the stationary requirements and this may be increased to twenty four. One girl may move to the home in Kathmandu.
Click on the picture for a gallery of photos
An event at South Devon College.

We were invited to participate in the Be Fair week at South Devon College on the basis that all the Nepali goods we sell here in the UK are sourced directly from the producers in Nepal. The photograph below shows a couple of our helpers on the stall.
and here is a more sedate view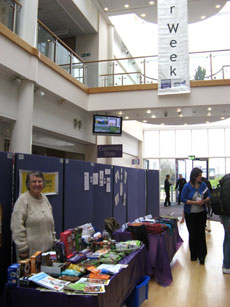 Previous newsletters