About Nepal
Nepal is a beautiful country. Noted for its majestic Himalaya, which in Sanskrit means the abode of snow, Nepal is very mountainous and hilly. It is home to 8 of the world's 10 tallest mountains including the biggest: Everest.
Its shape is roughly rectangular, about 650 kilometers long and about 200 kilometers wide; a landlocked country, surrounded by India on three sides and by China's Xizang Autonomous Region (Tibet) to the north. Nepal is almost totally dependent on India for transit facilities and access to the sea, even for most of the goods coming from China.
For a small country, Nepal has great physical diversity, ranging from the Tarai Plain at about 300 meters above sea level in the south to the almost 8,800-meter-high Mount Everest (Sagarmatha in Nepali), in the north. From the lowland Terai belt, the land rises in successive hill and mountain ranges, including the stupendous rampart of the towering Himalayas, ultimately reaching the Tibetan Plateau beyond the Inner Himalayas. This rise in elevation is punctuated by valleys situated between mountain ranges. Within this maze of mountains, hills, ridges, and low valleys, there is a resulting enormous diversity of ecology, flora, fauna and landscapes. Apparently Nepal has over 850 species of birds alone - more than the whole of the north American continent!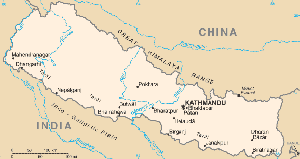 Nepal is divided into three areas: the Mountain Region, the Hilly Region, and the Tarai Region. All three are parallel to each other, from east to west, ,occasionally bisected by the country's river systems. These ecological regions were divided by the government into development sectors within the framework of regional development planning.