5 June 2013 - nepalnews.com - Dr. Arjun Bahadur KC Hydroelectric Power and Nepal's Energy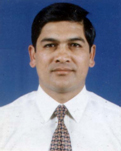 Nepal is experiencing an extreme shortage of electricity despite having an enormous hydropower resources potential for development not only for domestic consumption but also for export. The development of hydropower that started some hundred years ago has not been very encouraging, averaging about roughly 6 MW per year despite being touted of its theoretical potential. The hydropower development has been seriously affected by the inefficiency, politicization and mismanagement in state owned electricity utility-(Nepal Electricity Corporation/NEA) as well as in its line ministry. Neither NEA, nor its line ministry has ever created an investment friendly environment to foster a private as well as community development of hydropower in Nepal. Moreover, Government of Nepal lacks serious vision for the short-term as well as long term hydropower development in Nepal.
In addition, wrong information about the hydropower potential in Nepal is being disseminated to the students and the common people of Nepal. The rhetoric claiming Nepal as "second richest country" in the world after Brazil in hydropower potential has never been proved. With no surprise, Nepal's power potential is even smaller than our both neighbours, India and China. It is the time to change the course books of Nepal that claims Nepal to be the second richest country in hydropower globally. Nepali people, especially those young students who could be the agents of change need true information. This article presents a clear position on the real hydropower potential in Nepal.
Some half century ago, water resources expert Dr. Hari Man Shrestha conducted an academic research for his Ph.D. degree in Russia, which revealed that theoretically Nepal could generate 83,000 megawatts hydropower, of which 42,000 megawatts was economically and technically feasible. This estimate was made at a time when very little river water discharge data was generated by very few measuring stations. Dr. Shrestha also used average runoff dischange that includes the flood water as well, making the study to be only a very high level approximation. That however could have been considered the only possible way to estimate the hydropower potential where not much measuring stations were available during that time.
A recent study conducted by the team of Institute of Engineering, Tribhuwan University Nepal and led by Prof. Narendra Man Shakya has shown that Nepal has a total potential to generate 53,000 megawatts of hydropower in Nepal. This team's estimate was based on the latest water discharge data available with the Department of Hydrology and Meteorology, using Geographic Information System (GIS). Unlike Dr. Hari Man Shrestha's study, this team estimated the hydropower potential excluding the flood water from the discharge data, making this study more reliable. However, the estimate of potential entirely depends on what type of models are used and what kind of assumptions are made while developing various scenario. This study however, does not tell what is the maximum generating potential in terms of electrical energy (GWh) based on wet as well as dry season flow durations. The author assumes that the team is in the way to estimate this as well.
The global theoretical hydropower potential is estimated to be 38,606,913 GWh while the technically feasible potential is 14,604,209 GWh annually (Hydropower and Dams, World Atlas, 2009). All the theoretical and technical capacity cannot be exploited because of the geographical, dry season flow available and economical reasons. It has been estimated that the global economically feasible hydropower potential is 8,771,502 GWh annually. Continentally, Asia has the highest economically feasible hydropower resource of 1,107,055 GWh followed by Europe (771,408 GWh), North and Central America (688,873 GWh), South America (641,216 GWh), Africa (102,107) and Oceania (41,886 GWh) annually. China and India have the largest economically exploitable hydropower resources in Asia. In terms of theoretical potential, China has the highest theoretical hydropower resources globally followed by Brazil, India, Russia, Indonesia, Canada and the USA. Figure 1 below shows the top 13 countries in the world with their gross theoretical hydropower potential (WEC, 2010).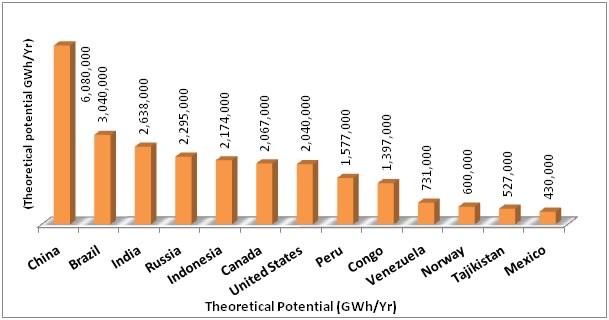 Figure 1. Top 13 countries in the world with highest hydropower generation potential (gross theoretical GWh/Yr

The Jalsrotoi Vikas Sanstha (JVC) in 2004 reported that based on the 83,000 MWh theoretical capacity at 95% exceedance flow, the electrical energy generation capacity is approximately 145,900 GWh per year. As 50% of this is considered technically and economically feasible, the maximum electrical energy generation could be approximately 73,000 GWh annually even if we assume Dr. Shrestha's estimate were correct. The estimate provided by Dr. Shakya's group is approximately 64% of what Dr. Shrestha estimated. If we take the scenario that 50% of the potential estimated by Dr. Shakya is economically feasible for electricity generation, it will be approximately 47,000 GWh per year. Between these two estimate, Nepal's hydropower potential could be estimated to be between 47,000 GWh and 73,000 GWh annually. If we assume that Nepal's economically exploitable hydropower potential is about 50,000 GWh annually, this will rank in the 30th position in the global ranking. The World Atlas 2009 "Hydropower and Dams" states that Nepal's economically exploitable hydropower potential is 14,772 GWh annually, which puts Nepal on the 50th position in global ranking. Globally available economically exploitable hydropower resources for the top 50 countries are presented in Figure 2 below.

Figure 2. Economically exploitable hydropower resources in to 50 countries in the world.

In addition to the theoretical and economically exploitable hydropower potential, other misunderstandings time and again has surfaced in the public and government level is that only the development of big hydropower plants can rescue the current poor energy supply situation in the country. In the last 2-3 decades, we spent significant time and efforts talking about the development of big hydropower projects such as West Seti, Arun III, Pancheswor etc. However, we have not moved forward for several reasons. We not only lack the capacity and experience to manage very big hydro projects, we do not have mechanisms to manage the environmental impacts and human impacts arising from such big projects. These all drag hydropower development to be unsustainable. To meet the present power deficit, our focus should be in the implementation of small and medium -sized projects in fast track basis to meet national power demand. Once the national power demand is met, large sized export-oriented projects need to be developed, which will practically take next 20-30 years at today's rate of development.
In conclusion, it does not matter wherever the Nepal's ranking on global stage is, it matters what information we provide to the public should be based on the scientific evidence. All it matters is whether we can exploit our economically feasible hydropower potential for the socio-economic development of the country or not. We have significant economically exploitable hydropower resources for our consumption as well as for export. The only way forward is to have small and medium sized projects implemented to meet the national demand for all sectoral energy consumption in short-and medium term. Until Nepal meets its national power demands, talking about the hydropower export does not sound to be a practical proposition.
(KC works as an energy and climate change expert in western Canada and can be reached at: kcarjun@gmail.com)

KATHMANDU: 13 January 2013

Editors and senior journalists today demanded that Prime Minister Baburam Bhattarai and Attorney General Mukti Pradhan be arrested and put on trial for their 'irresponsible' directives to Office of District Attorney, Dailekh and police to halt investigation of murder suspects of journalist Dekendra Thapa.
Speaking at an interaction organised by Television Editors' Guild in the capital, they called the bid to obstruct prosecution of persons facing criminal charge was a criminal offence itself. "This is why the Prime Minister and Attorney General should be arrested through the court," the journos argued.
They said the President should seek clarification from Prime Minister Bhattarai and Attorney General Pradhan as to why they had attacked press freedom, rule of law and democracy.
Yubaraj Ghimire argued that the Prime Minister and Attorney General were liable to be face criminal charge for taking exception to the arrest of those accused of murdering Thapa when the suspects had admitted to killing the journalist. "They should be arrested now," he said.
Harihar Birahi remarked that Bhattarai and Pradhan had lost moral ground to remain in power as they had made a mockery of rule of law. Former presidents of Federation of Nepali Journalists Suresh Acharya, Taranath Dahal, Dharmendra Jha and editors of print and electronic media stressed the need for all parties, journalists, professionals and democratic forces to take up the issue for stern agitation.
NOV 13 - The Kathmandu Post. Sanjay Sharma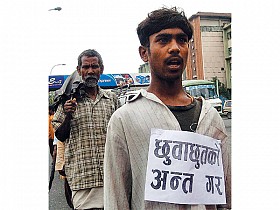 Believed to be one of the earliest social movements in Nepal, the Dalit movement "officially" started after the formation of some Dalit organisations in 1947. Despite this, some Dalit leaders and authors strongly believe that the movement has not been able to achieve success in the way it ought to. While compared to other interest groups like women, Janajatis and Madhesis, Dalits are less able to make their voices heard. Their underrepresentation in the Constituent Assembly (CA) is one prime example of this. The sense of collective identity, which the social movement scholar Sidney Tarrow believes to be the most important, is somewhat lagging amongst Dalits. To further clarify the issue, below are discussed the six major factors which have hindered the movement.
Double discrimination Dalits face problems in standing out as a unique identity because of their shared culture. Dalits, being a category in the Hindu caste system, have a common identity to that of Brahman/Chhetri. Not only do they celebrate similar cultural practices, but they also have the same language and belong to the same ethnic origin-Caucasoid. Because of their belonging to the caste category, when other ethnic groups launch protests with anti-Hindu slogans, Dalits are also bound to suffer. They bear the burden of "double discrimination," first from the higher castes for being so-called "impure" and from the radical ethnic groups for being "Hindu" and "untouchable".
Territorial concentration
Unlike the ethnic groups of Nepal, who are more-or-less confined to particular localities, the Dalit caste groups are scattered throughout the nation. Dalits, Brahmans and Chhetris are spread throughout; east to west and north to south. Due to the fact that their territorial concentration is poor, Dalits are not fully able to claim collective challenge in a particular area and confront the state. Furthermore, due to their scattered nature, Dalits are seen to be politically less significant compared to various ethnic groups, which are concentrated in large pockets in various places. Dalits, although claimed to be about 20 percent of the population, are not found predominant in any particular political constituency and therefore, are not addressed politically. It can be said, borrowing the words of Lawoti and Guneratne, that the "Dalitization of politics" is minimal in Nepal and is not seen as significant as the "ethnicization of politics" through which the Maoists became the majority party in the Constituent Assembly (CA).
Fragmented nature
The practice of caste-based discrimination and untouchability is not only imposed against Dalits, but also found within them. Like the Hindu caste system, Dalits themselves are largely fragmented and the hierarchical system of castes is rampant within. The issues of inter-caste marriage, untouchability, discrimination, dominance and hierarchy are seen within various groups of Dalits. Because of the inter- and intra-caste discrimination, there is only a small group of Dalits who are able to benefit from state privileges, while a large majority still live in poverty. In his analysis of the Dalits' presence in various spheres of the society, including political parties and organisations working for Dalits, scholar Yam Bahadur Kisan found that the Bishwakarmas and the Pariyars widely dominate these institutions with an overwhelming 90 percent participation. This fragmentation and the form of hierarchy have never allowed Dalits to rise as a collective entity with a high degree of solidarity.
Lack of leadership
A school of thought believes that the Nepali Dalit movement needs a solid leadership, like that of BR Ambedkar of the Indian Dalit movement. Although there are numerous Dalit advocates, someone who could rise above organisational ideologies and actually work for the greater good of Dalits is lacking in the Nepali Dalit social movement. Writers like Kisan and Aahuti strongly believe that the political leaders are overwhelmed by their respective political ideologies and are not able to fully acknowledge Dalit communal issues.
Political factors
Although there are 49 Dalit leaders in the CA-the largest in number ever in the parliament-the late Dalit activist Suvash Darnal believed that the Dalit ideology is largely undermined by larger and separate political ones. Out of the 49 Dalit representatives, only one is from the Dalit Janajati Party, believed to be a mainstream Dalit party, but never out of controversies. All the other Dalit members of the CA put their political ideologies first and relegate Dalit ideologies to the secondary level.
The NGOs
The scattered nature of the Dalit activists in numerous NGOs, rather than one, has further weakened Dalit voices. It is reported that there were over 32 different organisations working for Dalits' rights and until the year 2000. This number reached about 1000 in 2010. Though the people working for Dalits and their rights have a similar ideology based on a discrimination-free society, their means for reaching the common goal are numerous and often conflicting.
Although more than six decades long, the Dalit movement in Nepal is believed to be less able to deliver what it ought to give to the Dalit community. The six factors discussed above are some of the major ones that have hindered the movement. Dalit voices are scattered and fragmented, and a firm leadership, either institutional or individual, is severely lacking to unite and strengthen the cause. Till the day Dalits remain fragmented themselves, Dalits won't be able to push forward with their movement and carve a dignified space for themselves in state and society.
Sharma is a Political Science student at Tribhuwan University
Posted on: 2011-11-14 09:19